On 15th September project coordinator, Dr Pieter Spanoghe, was invited to present a test-version of the EU FarmBook to the SCAR-AKIS Strategic Working Group (SWG).
In September a demo-version of the EU FarmBook was presented to the SCAR-AKIS Strategic Working Group (SWG). The SWG focuses on improvements to the functioning of knowledge and innovation systems in agriculture, agri-food sectors and the bioeconomy. Contributing to better interconnection, synergies and partnerships among all EU AGRI actors and stakeholders is a high priority for the SWG. The group consists mainly of agricultural policy makers and representatives of agricultural research institutes and universities from all EU Member States.
On 15th September the EUREKA project coordinator, Dr Pieter Spanoghe, was invited to present the first live demo of the EU FarmBook (https://demo.eufarmbook.eu/), together with a user guide for uploading knowledge objects to the platform.
"It was a very fruitful meeting", explained Dr Spanoghe, "The Strategic Working Group is excited about the idea of a knowledge database that gathers all research results from EU projects related to agriculture, forestry and rural development. It is especially appreciated that the database is built based upon the FAIR principles (guidelines for good data sharing practices) in order to be able to deliver digital content from various digital repositories in a uniform way. We need to ensure that farmers, foresters, advisors and other practitioners have access to practical agricultural knowledge in the long term, including knowledge that is generated by EU-funded multi-actor research and innovation projects."
Encouragement from DG AGRI
At the most recent SCAR-AKIS SWG meeting on 24th November, Inge Van Oost from DG AGRI highlighted the importance and relevance of the EU FarmBook for making an increasing volume of practice-oriented knowledge easy accessible, interactive and attractive at EU level.
She emphasized that the EU FarmBook will:
be important for farm advisors to support the needs of the so-called "back-office" advisory activities that support "front-office" advisory services;
be of relevance to the "innovation strand" of the new CAP Networks, and;
have potential for increasing interoperability of knowledge exchange between Member States.
She also highlighted the many great features / multi-functionality that the EU FarmBook pilot platform offers.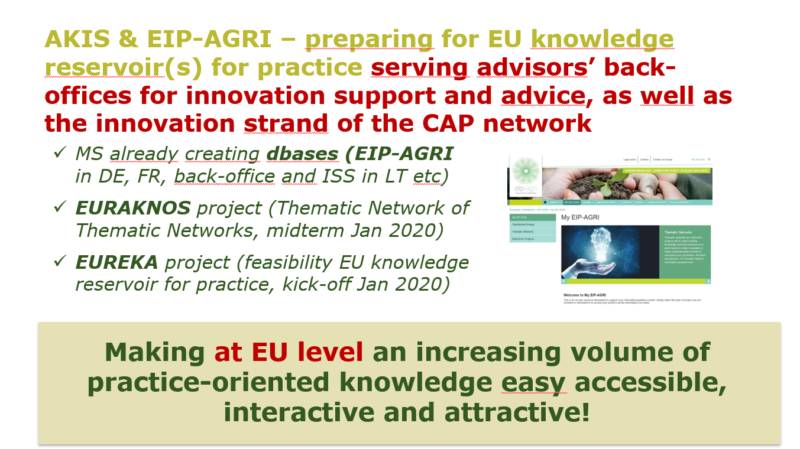 FACT BOX
SCAR (Standing Committee on Agricultural Research) / AKIS (Agriculture Knowledge and Innovation Systems). Read more about the SCAR-AKIS SWG
National Rural Networks (NRNs) are established in all EU member States and have been an important part of the EU Common Agricultural Policy (CAP) since 2007. From 2023 they will be renamed as National CAP Networksand their role will greatly expanded and strengthened to include a so-called 'innovation strand' that will contribute to the cross-cutting objective (CCO) of the CAP 2023-2027 to modernise agriculture and rural areas through increased knowledge exchange and innovation. Read more about the role of innovation networking in the Member States